---
The Collectors Encyclopedia of Hull Pottery
by Brenda Roberts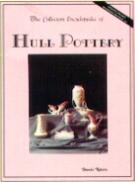 Hardcover, 193 pages; Published by Collector Books.
Hundreds of pieces of Hull pottery in full color, complete descriptions of 116 lines with dates of manufacture, and an in-debth history of the pottery make this the most essential book for Hull collectors. Updated values.
---
---
The Collector's Guide to Shawnee Pottery
by Duane Vanderbilt, Janice Vanderbilt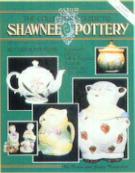 Hardcover, 157 pages; Published by Collector Books.
A guide to the popular cornware, pitchers, shakers, teapots, creamers, and cookie jars. Over 400 color photos plus original catalog pages fill this informative guide. It's a great book for the Shawnee collector. Updated values.
---
Shawnee Pottery: An Identification & Value Guide
by Jim Mangus, Bev Mangus
Hardcover, 256 pages; Published by Collector Books.
This book is arranged in an easy-to-use format and collectors absolutely love it. Many items have never been shown elsewhere in print. Hundreds of listings and descriptions, current values, production dates, extensive histories, and background information in addition to more than 1,200 color photos.
---
Collector's Encyclopedia of Metlox Potteries: Identification and Values
by Carl Gibbs Jr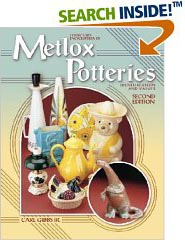 Hardcover - 429 pages; Publisher: Collector Books; 2nd edition
Click Here to Order this Book from Amazon.com
This three-part volume begins with the history, emphasizing the contributions and innovations of the different owners of Metlox Potteries and exploring the major developments. Next is a massive section on the dinnerware lines, chronologically listing every item of each pattern by name and division. The backstamps and current values are also included, as well as manufacturing and a survey of the most collectible patterns. Finally, the artware lines: the famous Walt Disney figurines, Nostalgia Lines, Art Treasures of the World, Poppets and Toppets, and cookie jars, for example. This new hardbound book also holds over 300 original Metlox color brochures and pamphlets and over 700 full color photos.2001 values.
---
The Collector's Encyclopedia of Brush-McCoy Pottery : Updated Values
by Sharon Huxford, Bob Huxford
Hardcover, 190 pages; Published by Collector Books.
Filled with more than 700 actual Brush-McCoy Pottery pieces featured in full-page, full-color photos, every piece is described by name, date, mark, size and current value. There is an extensive history of the company with vintage photos, as well as original company documents and many original color catalog reprints.
---
McCoy Pottery : Reference & Value Guide
by Bob Hanson, Craig Nissen, Margaret Hanson
Hardcover, 320 pages; Published by Collector Books.
This fascinating book is filled with hundreds of original Sascha Brastoff's original vintage photos, mementos, many one-of-a-kind pieces, and great Hollywood stories. There is also a special collector's section that features over 300 photographs in full color. Clarifying the Brastoff marking system and detailing information on Sascha fakes, this is the absolute source on Sascha and his dazzling designs.
---
Wall Pockets of the Past : Collector's Identification and Value Guide
by Fredda Perkins
Paperback; Published by Collector Books.
This complete review includes wall pocket manufacturers, styles, composition, marks and current prices. The reader is provided with historical perspectives and background information in addition to the nearly 500 photos separated into sections on wall pocket manufacturers. It's a great book for manufacturers.
---
Go Back to the
Pottery Main Listing