The Postcard Price Guide : A Comprehensive Reference
by J. L. Mashburn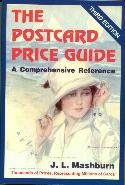 AMAZON.COM PRICE: $15.96 ~ You Save $3.99 (20%) Off List Price!
This book can be ordered from Amazon.com, the respected online bookseller - in association with the Online Collector's Bookstore.
Paperback; Published by Colonial House; Publication date: February 1, 1997
This is the 3rd edition of The Postcard Price Guide, the most comprehensive postcard price guide available. It lists thousands of prices representing millions of cards, mixed equally between U.S. and Foreign, from 1893 through 1980. It contains 16 big chapters listing and illustrating Artist-Signed (with many near complete checklists of their works), Fantasy of all types, Color and Real Photo Nudes, Greetings, Sets and Series, U.S. and Foreign Views, Real Photos, Topicals of all kinds, Transportation of all types, Baseball, etc., Roadside America, Expositions, Santas, Halloween, and much more. It is a super book for both collectors and dealers worldwide and contains 512 pages and over 635 beautiful images. It was written and compiled by J.L. Mashburn, a collector-dealer-historian with over 35 years experience in the hobby.
Availability: This item usually ships within 2-3 days.
Click Here to Order this Book from Amazon.com